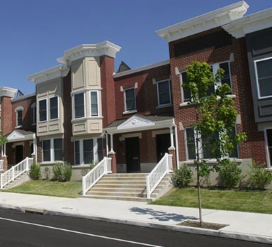 Through 2013 it appears that as long as Fannie Mae and Freddie Mac remain in business, they will continue to lend to affordable housing, particularly to existing and aging affordable developments. By the end of 2013, Fannie and Freddie were on pace to match the prior year's affordable production lending volume. For Freddie, this meant $3 billion in affordable housing loans and for Fannie, $3.4 billion.
As reported in the January/February 2014 issue of Affordable Housing Finance, Angela Kelcher, Director of Multifamily Affordable Production for Fannie Mae, "Preservation continues to be the biggest driver of our volume."  Most of Fannie's preservation loans are to properties originally built more than a decade ago with low-income housing tax credits. About a third of the loans go to older properties that have federal Section 8 project-based contracts. In addition, with the number of post-year 10 LIHTC properties seeking financing opportunities, the GSEs expect that this segment of the affordable housing stock will contribute significantly to their lending pipeline.
The typical products and deal terms for Freddie and Fannie in today's market include the following:
Freddie can offer permanent securitized loans to affordable properties with interest rates close to 5 percent at a 210 to 230 basis-point-spread over U.S. Treasury bonds, typically with a 10-year term.
Freddie's interest rates have been a few basis points below the interest rates for similar loans offered by Fannie lenders in recent months.
Interest rates for tax-exempt bond loans are usually about 25 percent below conventional rates, however, tax-exempt rates have been pushed up due to the troubled state of the municipal bonds market.
To get lower rates and still take advantage of 4 percent LIHTCs, borrowers are combining tax-exempt bonds with taxable permanent financing. After rehab, tax-exempt bonds can be paid off with the proceeds of a taxable permanent loan from Fannie or Freddie.
For acquisition loans, loan-to-value ratios can reach as high as 80 percent.
Fannie and Freddie continue to offer credit enhancement for tax-exempt bonds.
For the latest on financing programs for aging affordable housing, contact us at Steve Spall (sspall@tcamre.com) and Allen Feliz (afeliz@tcamre.com) — (617) 542-1200.