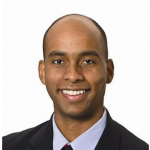 Today, TCAM announced the promotion of Allen Feliz to Managing Director. The promotion recognizes Mr. Feliz's role in managing the Company's engagements with a wide range of clients, including for-profit and non-profit developers and public agencies. As Managing Director, Mr. Feliz will be part of TCAM's senior staff setting policy and guiding the Company's growth.
Mr. Feliz has been with TCAM since its inception five years ago. As a Director at TCAM, he has played key roles in research, business development and delivery of consulting services. Prior to joining TCAM, Mr. Feliz worked at MMA Financial and Brown University. He holds a BA from Brown University and a Master of Public Administration from the Maxwell School of Citizenship and Public Affairs at Syracuse University.
"Allen has been instrumental in building TCAM and in delivering high-quality services to our clients," said CEO Jenny Netzer. "This promotion recognizes his role in the continuing success of TCAM and our clients."
TCAM (www.tcamre.com) provides asset management and consulting services for investors, syndicators, owners, lenders, housing finance agencies and authorities and guarantors. Overall, TCAM has provided services to clients for over 800 properties containing 120,000 apartment units in 46 states, Washington, D.C., and Puerto Rico, representing in excess of $5.5 billion of client capital.
TCAM is owned by QuietStream Financial (http://quietstreamfinancial.com/). QuietStream Financial's companies provide alternative asset management services and structured finance products for real estate borrowers, financial institutions and investors.