BOSTON, MA – TCAM's next asset management training seminar will be held at our Boston office on January 30-31, 2018. The seminar covers the essential elements of affordable housing asset management with real-life examples and materials provided for future reference. Topics covered during the seminar will include the following:
         portfolio and investment performance;
         site inspections;
         regulation, subsidy and compliance;
         industry trends;
         financial analysis and property valuation;
         identifying and addressing tax issues;
         data and document manaagement;
         risk rating, problem resolution; and refinancing, recapitalization and disposition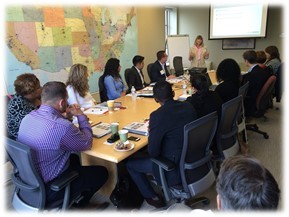 Space for the training is limited and attendance is confirmed on a first-come first-served basis. Interested parties should contact TCAM at (617) 542-1200 or via email, afeliz@tcamre.com.
In addition to this popular asset management training seminar, TCAM (www.tcamre.com) provides asset management and consulting services for investors, syndicators, owners, lenders, housing finance agencies and authorities and guarantors. Overall, TCAM provides services for 1,332 properties comprising 172,000 apartment units in 43 states, Washington, D.C., and Puerto Rico, representing in excess of $3 billion of client capital.
TCAM is a company of QuietStream Financial (http://quietstreamfinancial.com/). QuietStream Financial's companies provide alternative asset management services and structured finance products for real estate borrowers, financial institutions and investors.
Testimonials from Prior Attendees:
"Early in 2015 three CFG Community Development colleagues with a wide range of tax credit and real estate experience participated in TCAM's two day training session. It was a great opportunity for applied problem solving as well as formal guidance on industry best practices. Exposure to other industry professionals with different roles provided for rich conversations."
Amy W. Farrell, Senior Vice President – Community Development Lending and Investment Citizens Bank, N.A.
"My experience with TCAM was excellent, and exceeded expectations. Your asset management training and instructors struck just the right balance between addressing the breadth of complex issues, but also delved more deeply into critical areas like taxes, financial analysis, and regulations. The training was comprehensive, well-paced, engaging, and in a setting that kept participants engaged. And as I had only recently started my position at the time of the training, this was an excellent crash course in asset management for affordable housing."
Director of Asset Management NYC Department of Housing Presevation & Development
"TCAM delivered an engaging and valuable training experience that succeeded in equipping me with the essential understanding of the crucial role an Asset Manager plays in the everyday success of our LIHTC properties.  The training was exceptional in the sense that it provided both a broad overview of the LIHTC industry, and what we as Asset Managers need to understand and manage in order to provide the expected returns to our investors. The team providing the training was incredibly knowledgeable and confident in the content presented.  This was a great experience that has provided me with the resources and tools to take our Asset Management Department to the next level."
Dana Patterson, Director of Asset Management Alco Management, Inc.
For more testimonials, click here: Testimonials from Prior TCAM Training Attendees